Listen up all you curious and fascinated marketers, brands, employers, teachers, and parents out there! There's a new kid in town and you might be surprised by some of their unique trends and behaviors. Gen Z, roughly 22 and younger, is the new emerging generation that represents the future of our country and they are proving to be modern, dependent, and more diverse than any previous generation.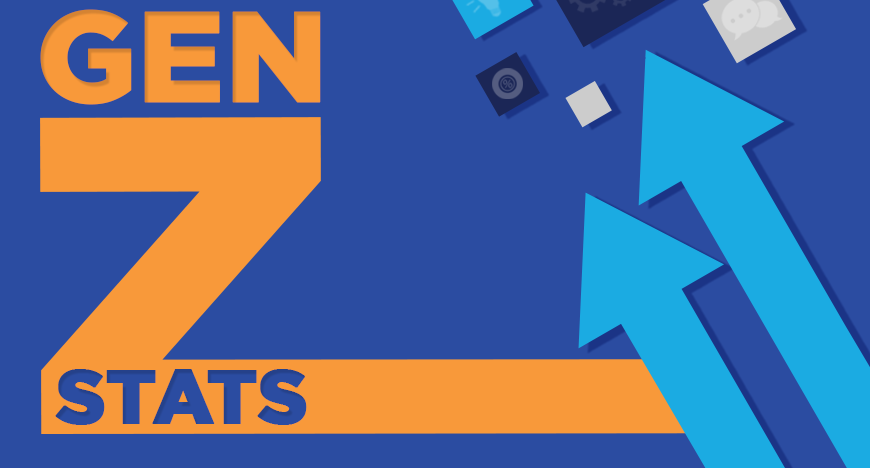 The Center for Generational Kinetics is continuing our ongoing yearly review of Gen Z with The State of Gen Z® 2018 National Research Study. The goal of this study is to uncover the unique attitudes, actions, and behaviors of the newest generation. It's clear that examining Gen Z now is the key to understanding the impending rise of consumers, employees, and trendsetters of the future.
So, for all you who want a little taste of tomorrow, take a moment and check out the most important Gen Z stats from 2018.
1. 95% of Gen Z has a smartphone.
2. Over half (55%) of Gen Z use their smartphones 5 or more hours a day and over a quarter (26%) use their phones 10 or more hours a day.
3. 65% of Gen Z is on their smartphones after midnight a few times a week or more often and 29% is on their smartphones after midnight every night.
4. 31% of Gen Z feels uncomfortable if they are without their phones for 30 minutes or less.
5. 46% of Gen Z currently follows more than 10 influencers on social media.
6. 68% of Gen Z read 3 or more reviews before buying something for the first time with their own money.
7. 73% of Gen Z follows at least one brand on social media and 52% follow three or more.
8. Although 86% of pre-college aged Gen Z (13-17) plan to go to college, half (50%) are only willing to take on $10k or less student loan debt and 27% are not willing to take on any student loan debt at all.
9. 2/3 (66%) of Gen Z needs feedback from their supervisor every few weeks or more often in order to stay at their job.
10. 62% of Gen Z expects to receive their first salary increase at a new job in 9 months or less.
Want to Solve Your Gen Z Challenges?
We lead national and international Gen Z, Millennial, and generational studies for our clients every day. We also keynote events around the world, helping businesses better understand their customers and workforce.
Let us know how we can help you. Send us an email or give us a call and we'll be happy to provide a little information for you to review.
Keep the conversation going. Follow The Center on Instagram @TheGenHQ or on Twitter @GenHQ. We are passionate about sharing our latest generational discoveries!
Jared Boucher, CGK's Lead Researcher, develops, analyzes, and builds custom generational research studies for a broad range of clients and their specific needs.