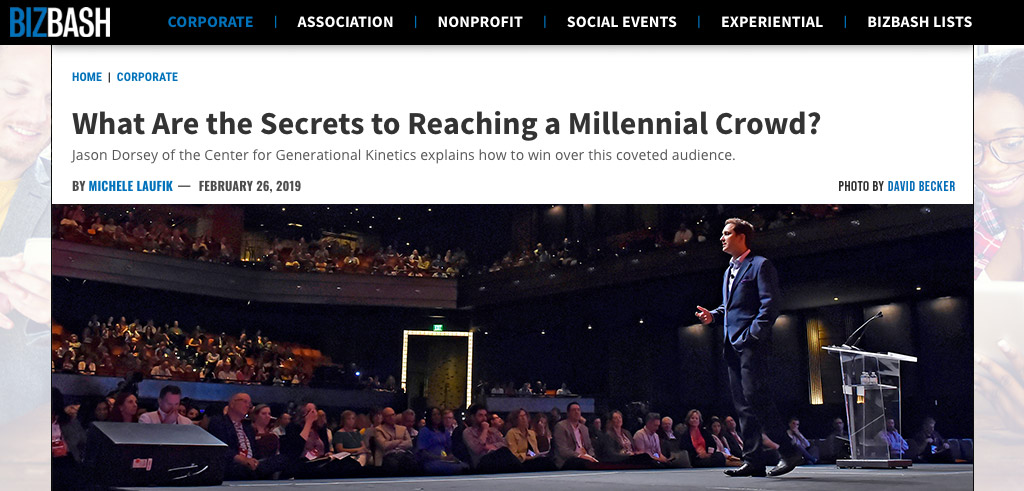 Every generation brings a unique combination of generation-shaping experiences, expectations, priorities, and aspirations. As challenging as those differences can be, at The Center for Generational Kinetics (CGK) we are on a mission to uncover insights into each generation to help bring them together.
Take the challenging nature of meeting and conference planning. We have hundreds of clients in this one-size-does-not-fit-all, high-profile industry that is rapidly changing.
We are frequently asked about what changes or enhancements are needed in the typical corporate meeting or conference approach that will engage and "wow" Millennials and the fast-emerging Gen Z. Answering these questions about event planning has never been more important as Millennials are now the largest generation in the workforce and marketplace! At the same time, Gen Z is now the trendsetter when it comes to technology, marketing, communication, and employee engagement.
CGK's co-founder (and resident Millennial) Jason Dorsey keynotes conferences and leadership meetings around the world filled with three, four, and even five generations! He shared several specific insights for making meetings and conferences a big hit with Millennials and Gen Z in a feature story interview with BizBash.com.
Here are the Top 5 Insights for making your meetings and conferences a hit with Millennials and Gen Z:
1. Involve: Remember—for Millennials and Gen Z, this is their event, not yours
"We have come of age in a time of instant feedback and collaboration, and we want our in-person events to include more of this before, during, and after," explains Dorsey. What that means to meeting planners is that Millennial and Gen Z attendees expect to be involved from the planning and preparation, to throughout the event (including VIP events), and the post-conference debrief.
"Millennials want the event to be tailored to them, when possible, and to give them options to find content and tracks that meet their specific needs including career and life stage," says Dorsey. Create this opportunity for them. Include content and sessions that allow them to personalize their experience to meet their current needs. Whenever possible, invite them to participate in discussions, tracks, and events that include senior leaders.
"Millennials want to be included in all aspects of the event . . . [and] not have to sit in the back of the room because they have more junior titles or fewer years of experience."
2. Interact: Make your event share-worthy, in real-time and across platforms
Millennials—and, even more so, Gen Z—have come of age with the 24/7 digital amphitheater known as social media. They expect interactivity and digital media to be integrated into everything about your live event, from pre-meeting promotions to day-of activities and post-event photo and video sharing on social media and members-only sites. This is so important to them, in fact, that holding an event at a venue without free, fast Wi-Fi is one of their biggest meeting pet peeves. Why? Because you need the free Wi-Fi to post and share during the event, particularly in rooms that have little or no cell phone reception.
"Millennials want digital integration . . . and more all-around interactivity," Dorsey says. So, if your conference isn't creating share-worthy content, you're going to lose them (which may mean they start scrolling on their phone while the speakers are still speaking). Keep in mind that Gen Z (age 23 at the top end) are more likely to use Instagram and Snapchat for social media while Millennials and older generations are more likely to use Twitter and Facebook, so make sure your content is promoted and promotable on all platforms to drive the most engagement and timely reach.
It's always a good strategy to keep the interactivity going even beyond just technology. Make sure to create networking and crowd-participation elements during your event so that your Millennial and Gen Z attendees feel that they have a hand in the content creation. The more you engage them, the more they will engage others to attend the next year!
3. Introduce: Give Gen Z opportunities that promote networking
Understanding is key when it comes to engaging Gen Z meeting participants. This new generation could be as many as 15 years younger than their Millennial colleagues or fellow event attendees. For Gen Z, this might be their first conference or professional meeting—and, while they don't want to be treated like the newbies, they do value access to extra resources because they are often new to the professional world.
"We find that Gen Z values training on how to make the most of events, how to use technology to connect with people and resources at events, and interaction that drives new connections," says Dorsey, who helps organizations unlock these training opportunities as part of his consulting services. The fact is that these younger attendees likely know fewer people at the event than those from other generations, so it will go a long way if you give them a few extra resources or opportunities to interact with other generations to find their path at the event.
4. Intrigue: Create hype and FOMO with trendy, before-event messaging
"In our work with planners around the world, the best way to reach Millennials is to create the foundation for a great event before the event happens," Dorsey says. Facilitate interactivity from the very beginning.
Dorsey suggests creating videos, short clips of behind-the-scenes collaborations and other intriguing content that catches their eyes and keeps them curious about what else is in store for them.
The key is to "build up the excitement for the event before it takes place," says Dorsey.
5. Inspire: Wow Millennials and Gen Z with entertaining speakers to seal the deal
Millennials and Gen Z are a discerning crowd of conference attendees. They've come of age always being able to see the best speakers in the world via YouTube, so they have high expectations for keynote presentations. This only makes hiring a fantastic keynote speaker that connects with them all the more important, because when they are "wowed" they tell everyone!
"Millennials want speakers that are high energy, engaging, and who pull into the message and meeting," says Dorsey, adding that PowerPoints and generic stage setups are a big yawn for speakers when Millennials and Gen Z are in the crowd.
Dorsey's own keynotes for Millennial and Gen Z audiences are well-known throughout the meeting industry. He's received over 1,000 standing ovations around the world. The key is his ability to engage Millennials and Gen Z as well as every other generation, which means every participant leaves inspired, entertained, and with actions they can use immediately. Other keynote speakers Dorsey believes hit this mark are Jay Baer, Rory Vaden, Erik Qualman, Alison Levine, and David Horsager.
"Millennials have very high expectations for entertainment when it comes to speakers, so you've got to live up to them."
Inspire the Millennial and Gen Z crowd now to win them for years
Conference and meeting planners already have their hands full managing all the details of a live event along with the not-always-aligned goals of event attendees. Identifying the generational nuances that can be leveraged to create a more engaging meeting across all four generations is a great way to drive better learning, ratings, reviews, and attendee results. That's where we come in as speakers and researchers.
At The Center for Generational Kinetics, our research into the mindsets of Millennials and Gen Z—across a wide range of situations and priorities—takes the guesswork out of engaging each generation. Let us help you discover how to unlock the potential of Gen Z to Baby Boomers so you can leverage your talent for leading meetings and live events.
Our customized keynote speeches have received standing ovations from audiences of 15 executives to 15,000 in an arena. We'd love to bring this experience to you, so please reach out if you have an upcoming event where a fantastic speaker would really make a difference. We love working with meeting planners and rocking it with every generation!
Want a speaker who inspires every generation in your audience?  
Our acclaimed keynote speakers headline meetings, events, and conferences around the world. Our passion is inspiring leaders while educating them on exactly how to lead across each generation, sell across generations, and drive innovation from Gen Z to Baby Boomers.
Send us an email or give us a call. We can provide information about our custom keynote option to full-day breakthrough presentations.
For our latest discoveries, follow CGK on Twitter @GenHQ. We are passionate about sharing our latest generational insights!